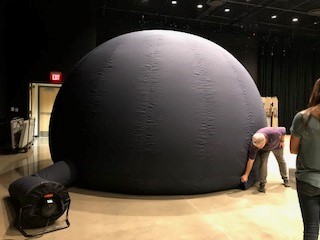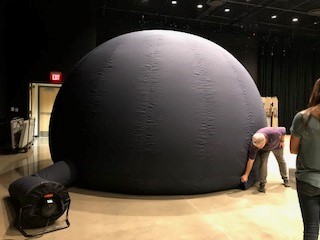 ** The Digitalis Planetarium Dome requires some space!
The dimensions are: 20 feet in diameter with additional 5 feet for the neck (fan area) and 16 feet in height! Ensure you have plenty of room!
Digitarium portable planetarium systems allow you to take the wonders of astronomy on the road—or to simply stow them in a closet when you don't need them.
Set up a Digitarium portable system and a Digitalis inflatable dome in a gym for an instant planetarium. Portability and ease of set up and use allow you to share one system.
From the moment you open the transit case until the sky is projected on the dome takes only a couple of minutes. Takedown requires about the same amount of time.
Checking out the Digitalis Planetarium Dome system is easy. Find a free day or week on the Events & Registration calendar, then call RESP with the dates you wish to reserve the Dome. We will ensure that it gets on the calendar for other educators to see it is checked out. It may only be checked out to a trained educator from your school at this time.